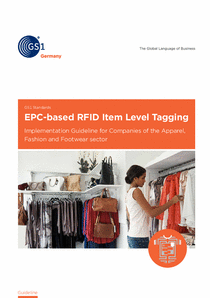 Publication
EPC-based RFID Item Level Tagging - Implementation Guideline for Companies of the Apparel, Fashion and Footwear sector
Description
This document aims at providing a best practice guideline for implementing and maintaining successful RFID item level tagging in the Apparel, Fashion and Footwear industry.
EPC-based RFID Item Level Tagging (ILT) enables organisations to leverage a huge variety of use cases aiming at increasing efficiency, opening new business opportunities as well as improving transparency.
This guideline supplements the GS1 standards by offering best practice solutions for EPC management (including serial number management and exception handling), tag and tagging (including tag placement, general advise as to tag performance, and back-up), quality assurance (e.g. as to applying tags and maintaining high tag readability), and training. As of version 1.1, the guideline also gives guidance in case there are two or more RFID tags per trade item (e.g. on the left and right-hand shoe of a given pair of shoes).
The audience of this document is stakeholders dealing with ILT processes, i. e. organisations of the AFF sector involved in the handling of AFF products, which assign serialised identifiers at product item level (or intend to do so) while using low-capacity RFID tags.